UHC Well-Being & Prevention Programs: Mental Health
Welcome!

Counseling and Psychiatric Services (CAPS) invites you to participate in the following free workshops, events, and services, including all the other self-care resources and pre-recorded sessions listed below.
CAPS Fall 2023 Programs
"Let's Talk" @ Tate
When: Thursdays @ 4 – 5 pm; August 24th – November 30th
Location: Tate 472
"Let's Talk @ Pride Center
When: Thursdays @ 3-5 pm: September 7th – November 30th (no meeting on 10/26 or 11/02)
Location: Pride Center; Memorial Hall 221
Facilitated by: Dr. Shannon Bowles, PhD
"Change Stress into Success" Workshop
When: Wednesdays @ 1-2 pm; September 6th – November 29th (No workshop on 11/22)
Location: Zoom
"Dawgs Dealing with It" Workshop
When: Thursdays @ 1-2 pm; September 7th – November 30th (no workshop on 11/23)
Location: Zoom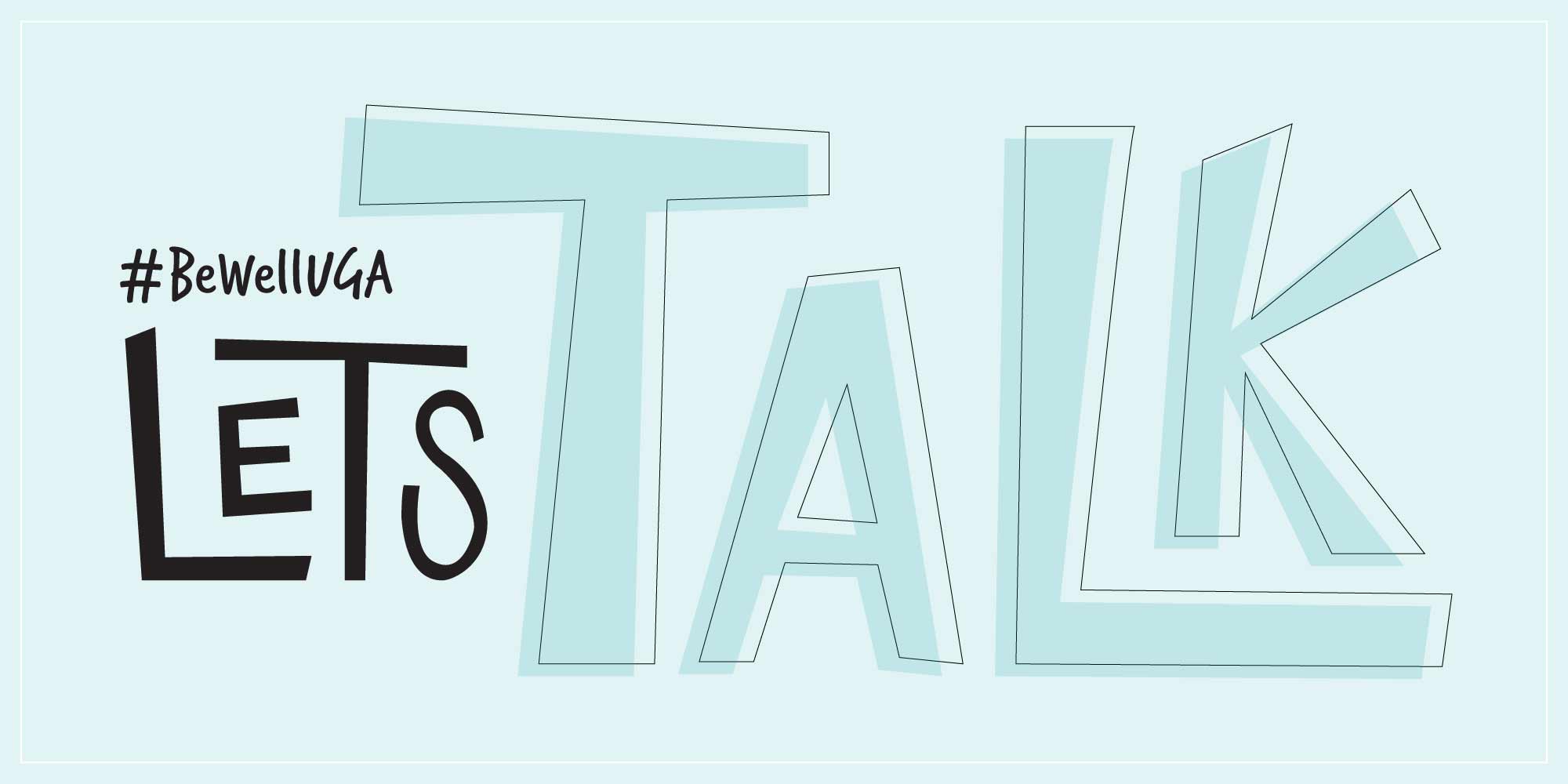 Let's Talk

Let's Talk is a drop-in service hosted by CAPS clinicians that offers informal, confidential consultation.

CAPS will be offering in-person and Zoom hours for Let's Talk during the Spring 2023 semester. Clinicians will hold a walk-in hour Thursday afternoons from 4:00 pm - 5:00 pm, Jan 19 - Apr 27 (*No session during Spring Break 3/6-3/10) at SLC Room 136 and a Zoom hour on Wednesdays from 11:00 am - 12:00 pm, Jan 18 - Apr 26 (*No session during Spring Break 3/6-3/10). To access the Zoom hour, students can sign up at the link below.

During a Let's Talk session, you can speak with a clinician about concerns, get help problem-solving, and learn more about counseling services at CAPS and other resources available to you at UGA and in the Athens area.

Let's talk consultations are:
Free for UGA students
Offered on a first-come, first-served basis, no appointment necessary
Confidential
Informal and not intended to be a substitute for traditional counseling
The Let's Talk program is modeled in part on the "Let's Talk" program at Cornell University. We are indebted to our colleagues there for the name and idea; some of the material on their website has been duplicated here with permission. Special thanks to Cornell University CAPS for sharing their expertise and experience.
Stress & Anxiety Management Workshop

Join us for this four-part series on managing stress & anxiety. The first lesson focuses on understanding what anxiety is and assessing how it shows up in our lives. Learn how to identify your own stress and anxiety as it arises, and explore some early warning signs, triggers, and ways of coping with these sensations. In the next three sessions, learn to develop practical skills on calming your mind & body, while learning how to create a lifestyle conducive to managing stress.
CAPS Self Care Page

During this time, CAPS staff remains actively engaged in supporting the mental health needs of the UGA community in a variety of ways. Please explore our updated CAPS: Self Care page, as we have included a robust list of new resources to help you navigate what's going on. We will continue to update this page as more resources become available.
Led by Dawn Healy, LCSW, from CAPS
Join in this compassion-based mindfulness practice via youtube